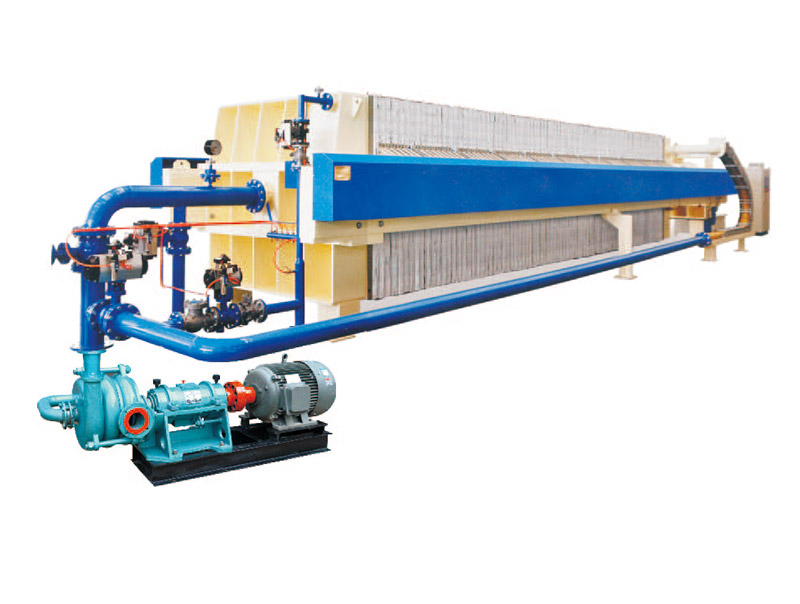 Automatic Remote Control Filter Press
Inverter motor pull plate: The motor adopts German SEW product, which is stable and reliable, and low power consumption.
Automatic control system: The controller uses famous brands, Omron, Siemens and ABB, to achieve automatic control of the whole process.
Hydraulic system runs smoothly and reliably: Hydraulic components are made of quality products, manifold block and fuel tank are produced by advanced manufacturing processes.
Anti-bending girder: Girder adopts the H-type chamber structure, which has good rigidity and anti-bending, completely solves the problem of bending of the girder.
Model

Filtering area

Filter plate size

Filter cake thickness

Filter chamber volume

Filter plate quantity

Motor power

Pressure

Machine weight

Boundary dimension

Foundation size

mm




m2

mm

mm

L

pcs

kw

Mpa

kg

mm

L

B

D

H

C

XAMZ10/630-30U

10

700*700

30

154

12

2.2

0.8

1880

2540*980*1130

1670

400

1200

780

495

XAMZ15/630-30U

15

226

18

2080

2840*980*1130

1970

XAMZ20/630-30U

20

298

24

2280

3140*980*1130

2270

XAMZ25/630-30U

25

375

31

2500

3490*980*1130

2620

XAMZ30/630-30U

30

452

37

2700

3790*980*1130

2920

XAMZ40/630-30U

40

595

49

3100

4390*980*1130

3520

XAMZ20/800-30U

20

870*870

30

307

15

2.2

0.8

2800

3160*1300*1270

2120

645

1460

865

505

XAMZ30/800-30U

30

460

23

3100

3660*1300*1270

2460

XAMZ40/800-30U

40

595

30

3400

4050*1300*1270

2850

XAMZ50/800-30U

50

748

38

3700

4490*1300*1270

3290

XAMZ60/800-30U

60

902

46

4100

4930*1300*1270

3730

XAMZ70/800-30U

70

1056

54

4500

5370*1300*1270

4170

XAMZ80/800-30U

80

1210

62

5000

5810*1300*1270

4890

XAMZ50/1000-30U

50

1000*1000

30

752

28

4

0.8

4320

4055*1580*1440

2930

760

1580

940

520

XAMZ60/1000-30U

60

908

34

4730

4415*1580*1440

3290

XAMZ70/1000-30U

70

1063

40

5170

4775*1580*1440

3650

XAMZ80/1000-30U

80

1219

46

5580

5475*1580*1440

4010

XAMZ100/1000-30U

100

1505

57

6400

5795*1580*1440

4670

XAMZ120/1000-30U

120

1816

69

7200

6515*1580*1440

5390

XAMZ100/1250-30U

100

1250*1250

30

1519

36

5.5

0.8

8300

4900*1990*1600

3730

1045

1990

980

435

XAMZ120/1250-30U

120

1806

43

9000

5360*1990*1600

4190

XAMZ140/1250-30U

140

2135

51

9700

5880*1990*1600

4710

XAMZ160/1250-30U

160

2422

58

10400

6330*1990*1600

5160

XAMZ180/1250-30U

180

2710

65

11100

6790*1990*1600

5620

XAMZ200/1250-30U

200

2997

72

11800

7390*1990*1600

6220

XAMZ220/1250-30U

220

3326

80

12500

7910*1990*1600

6740

XAMZ250/1250-30U

250

3778

91

14000

8630*1990*1600

7460

XAMZ200/1500-35U

200

1500*1500

35

3030

49

7.5

0.8

20000

7050*2260*1925

5315

1260

1970

1170

505

XAMZ250/1500-35U

250

3739

61

22500

7890*2260*1925

6155

XAMZ300/1500-35U

300

4413

74

15000

8800*2260*1925

7065

XAMZ400/1500-35U

400

6007

99

30000

10670*2260*1925

8935

XAMZ500/1250-30U

500

7478

123

36500

12350*2260*1925

10615

XAMZ500/2000-40U

500

2000*2000

40

10000

69

11

0.8

33000

9720*2800*2424

7820

1200

2600

1500

505

XAMZ600/2000-40U

600

12000

83

38000

10840*2800*2425

8940

XAMZ700/2000-40U

700

14000

97

42000

12160*2800*2425

10260

XAMZ900/2000-40U

900

18000

125

61000

14000*2800*2425

12440

XAMZ1000/2000-40U

1000

20000

139

65000

15110*2800*2425

10615